Private Events
At Oyamel, it feels like a fiesta the moment you walk through the door. Our bright spaces and vibrant décor paired with savory Mexican bites and unique cocktails come together to create an event you'll never forget. From an intimate seated meal to a large standing reception, our team can work with you to plan events of a variety of sizes and styles. Read below for more information on our event spaces.
Questions? Contact our events team at events@oyamel.com
EVENT MENUSEVENT SALES KITBOOK YOUR EVENT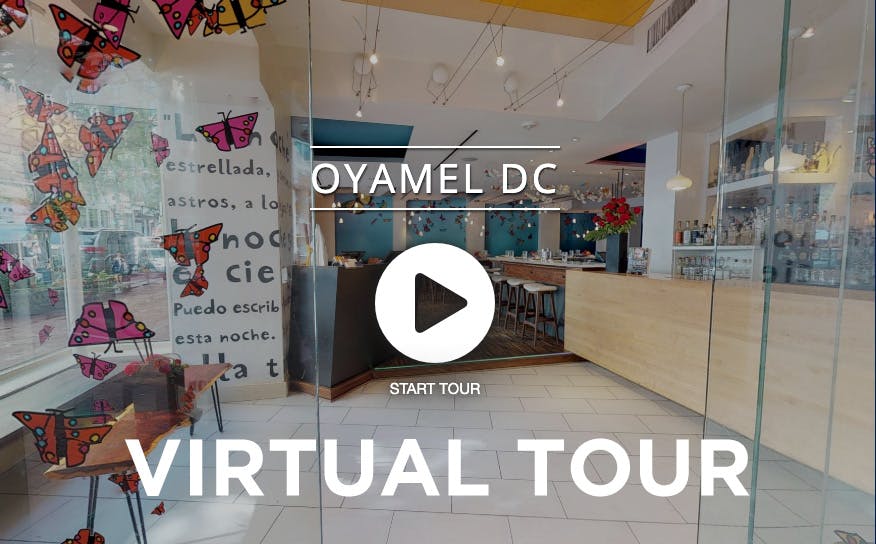 Full Restaurant Buyout
Full Restaurant Buyout
Enjoy exclusive use of Oyamel with a full buyout. Let each unique area of the restaurant from the Butterfly Bar to the Escondido Room enhance your one of a kind event.
Standing Reception - 200
Seated Dinner - 170
Butterfly Table
Butterfly Table
The alcove provides the perfect location for an intimate and lively dining experience in the Butterfly Bar.
Seated Dinner - 11
Butterfly Bar
Butterfly Bar
Cocktail receptions and exciting dinners are perfectly at home in the Butterfly Bar. Including any of our delicious Mezcal and Tequila cocktails is sure to liven up your event. This partial buyout venue is semi-private.
Standing Reception - 70
Seated Dinner - 68
Escondido Room - Private Dining
Escondido Room - Private Dining
The Escondido Room is fully private and ready to be customized for your unique event. Enjoy a standing reception, seated dinner, or conduct a presentation using the Escondido Room's built in flat screen.
Standing Reception - 50
Seated dinner - 40
Main Dining Room
Main Dining Room
If you're looking to host a larger dining experience but don't want a private room or to buyout the restaurant, the Main Dining Room is the perfect option.
Seated Dinner - 26
Large Tables
Oyamel's large tables are ideal for bigger groups that want to be in the thick of the action and feel the buzz of the restaurant. Choose from the Communal Table or the Banquette table, both of which are in the main dining room.
Communal Table: Seated Dinner - 15
Banquette Table: Seated Dinner - 16